We offer after school and weekend STEM programs throughout the school year that explore topics in technology and artistic and engineering design, from introduction to career-level skills. NEW: Explore all topics that we can offer (see below)!
PROGRAM LOCATIONS
Our in-person STEM programs are currently run at Makery Coworking, 20 Bank St., New Milford CT. Many of our in-person topics can be offered at your space. Send inquiries to info@roboticsandbeyond.org.
COVID-19 PRECAUTIONS
Our in-person classes are designed to get your children back into a creative, energetic environment with other young people, with COVID-safe measures in place. Read our safety precautions .
ASSISTANCE WITH CLASS FEES
We have limited funds for assistance with class fees. If you would like to request assistance please print and scan/email or mail back our Tuition Assistance form or reply to the questions by email to info@roboticsandbeyond.org.
IMPORTANT E-MAIL REQUIREMENT!
You must add info@roboticsandbeyond.org to your approved email contacts list. If this is not done you may miss important information and lose your registration for the class.
Subscribe to our news updates to hear about our latest programs and events!
1 ON 1 CLASSES | All Ages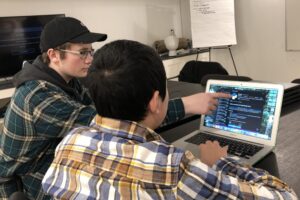 All Ages | Ongoing: Days and times depend on student/mentor availability | Cost: Varies

MINECRAFT GAME NIGHT | Grades 2-12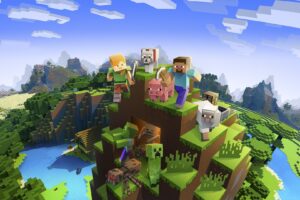 Grade levels vary, see details below | Fridays (1 per month) | 6:30-8:30 pm | Cost: $25 | Location: Makery Coworking

December 18 event: Grades 2-9
View details for Minecraft Game Night
For Fall 2020 we have a few restrictions in place for our in-person game nights:
Game time 6:30-8:30 but please arrive 15-20 min early for setup
Players will be welcomed at the door. Parents will drop players off and pick up at the door but not enter the Makery. Parents must wear a mask when arriving at the door.
Maximum of 7 players allowed
Players will be seated at least 6′ apart
Players must wear a mask at all times unless they are outside for a break
No food is provided or allowed but we will provide bottled water
All computers, including those brought from home, will be wiped down with a sanitizing cloth upon entry and before leaving the event.
Minecraft is played on our own private server! We can provide computers and Minecraft accounts at no extra cost if needed. You must request a computer or account by phone or email ahead of time.
Some of our popular games are Capture the Wool, One in the Chamber, Hunger Games, Paintball, and Walls. You can get help with all of your Minecraft questions.
Due to limited space, ADVANCED REGISTRATION IS REQUIRED. Last minute attendance may be possible depending on how full we are but call ahead to check. 860-717-4319 or 860-944-6175.
Please PAY IN ADVANCE with a PayPal account or a credit card at time of registration, or by arrangement with us to pay at the event with cash or check.
CANCELLATIONS AND REFUND POLICY: If you registered but cannot attend, please cancel via email to us at info@roboticsandbeyond.org. For last minute cancellations call 860-717-4319 or 860-944-6175. If you paid and did not attend or cancel then the payment is not refundable. If you registered, did not pay ahead and did not cancel then we lost that spot and income, so PLEASE be considerate.
WHAT TO PLAY ON: Our players must use a laptop or desktop computer. I-Pads and smart phones will not connect to our server. We encourage you to bring your own laptop that you have played on before to allow easy connection and avoid lost game time. Put your name on your charger cord! If needed, we can provide a computer at no extra cost. Please let us know in advance if you will need a computer. Don't have a Minecraft account? We have several accounts which are available at no cost.
We can also help you set up a Minecraft account at the game event at no extra charge. This takes only take a few minutes and the cost is about $28. Visit www.minecraft.net.
Select a category below to see a detailed list of topics that we can offer. Want a class that is not listed? Use our Topic Interest form to tell us.