Let Robotics And Beyond host your next birthday event!
Our goal is for your child to celebrate their birthday with friends doing an exciting and challenging activity that also exercises their minds. You can choose from the following topics: LEGO Freestyle Building Party, Robot Wars, Minecraft, or Introduction to Programming and Video Game Creation (see details below). You can bring food or snacks, or after the party enjoy one of our local restaurants which are a short walk from our office. We provide bottled water for all guests. Our birthday events are limited to 8 guests and 2 adults.
We are flexible as to dates/times and will work with you to accommodate your schedule. We generally have the parties for 2 hours between 10am and 4pm on Saturdays but we may be able to hold them on Sundays, Friday evenings or on school vacation days as well.
Once the date, time and topic is settled, you will receive an email confirmation and total cost. Payment can be made ahead or at the party. We will need to know number of guests, and name of your child.
Birthday events at your location
We can bring our birthday events to your home or another location. Space, tables and internet needs vary depending on the topic and the cost is greater due to the packing and travel time required. Let us know what you are interested in and we will do our best to provide it.
Assistance with the fee for all of our party topics is available. Please inquire at info@roboticsandbeyond.org.
Save
Save
LEGO FREESTYLE BUILDING PARTY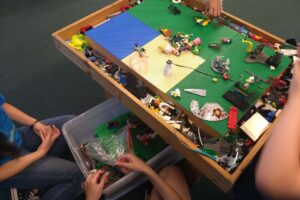 For ages 6-10. Have friendly competitions for freestyle building challenges. Guests are given challenges and work alone or in pairs to build designs that solve the challenge using our many 1000's of parts. Guests then present their projects and explain their ideas.
Challenges can include:
vehicles competing for rolling distance, speed and accuracy down a ramp
create the tallest tower
create likenesses of plants or animals or everyday items
solve specific engineering and other design challenges
Cost for a LEGO Freestyle Building party is $225 for 2 hours and up to 8 children.
ROBOT WARS PARTY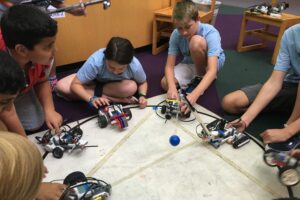 For ages 8-14. Working in pairs, guests start with pre-built, pre-programmed robot vehicles and then customize them with fun freestyle LEGO parts with looks and strategy in mind.
Guests then learn how to program the robots for their personal strategies in the battle ring. Battles are one-on-one for many rounds and end with several all-robots-at-once final battles.
Cost for a Robot Wars party is $225 for 2 hours and up to 8 children.
MINECRAFT PARTY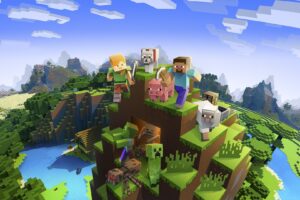 For ages 7-15. Guests play on our own dedicated server using games we have designed. The Minecraft game entry space is customized with the name of the birthday host.
We provide all computers and Minecraft accounts.
Cost for a Minecraft party is $250 for 2 hours and up to 8 children.
INTRODUCTION TO CODING AND VIDEO GAME CREATION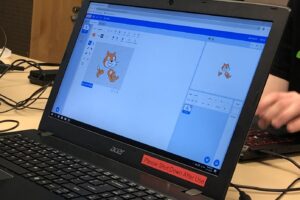 For ages 7 to 14. Guests will have a solid introduction to programming in Scratch and learn how it can be used to create games and animations. Scratch was developed by MIT, is free, is an excellent way to learn fundamentals of programming and does not require any downloads to your computer to use at home. Scratch is appropriate for children as young as 7 or 8 and up to 15 or 16, and does not require keyboard skills. Guests will use Robotics And Beyond computers. Guests are encouraged to provide an email address for creation of an account for their Scratch programming projects to use later from any computer or device with internet access.
Cost is $225 for 2 hours and up to 8 children.
Great Battlebots Party! We had a BattleBots birthday party for our son's 10th. There were 9 boys, with an age range from 6 to 12. Every one of them got into it–some as part of the planned activity, some just building with the Legos that are used to add on to the Mindstorms-based robots. First the teams added on to the basic robots, then they tested them, adjusting parts and that didn't work and learning how to change the basic programming. After some one-on-one battles, everyone put their battlebots into the arena and had a couple of big battles. Everyone was having such a good time we ended up extending the party by about 1/2 hour. This was a great party!
We would like to thank you for a fantastic time! Everyone tells me how much the kids enjoyed themselves. We will definitely spread the word about how helpful, creative and patient you are with the kids! There are a few of us who are already planning on summer camps with you next summer.