Give the gift of STEM and Design to someone special in your life. Our gift certificates can help offset the cost of ANY of our programs.
Save
Save
ONLINE CERTIFICATE
If you already have an account with our registration system, you can order a gift certificate online. It will be sent via email. ORDER HERE.
PAPER CERTIFICATE
If you don't have an online account or would prefer a paper certificate, please order by phone (860-717-4319) or e-mail (info@roboticsandbeyond.org). Once payment is received, the certificate can be mailed or picked up at our office in New Milford.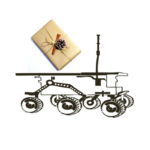 Save
Save